For over 20 years, OPTIMIX has always been following market demands and trends closely. Bearing the focus of going green and the concept of sustainability, we developed eco-friendly, durable, safe and reliable building material solutions with innovative technologies.
OPTIMIX TA328 Tile Adhesive (Flexible) has successfully attained the highest Platinum recognition in CIC Green Product Certification, as an acknowledgement of OPTIMIX's devotion to the environment. OPTIMIX will continue to fulfill our green and sustainability mission on more architectural projects.
CIC Green Product Certification currently covers 28 categories of products, assessing the environmental impact of different building materials in the full service life of the building. The grades are rated as Platinum, Gold, Silver, Bronze, Green to represent their eco-friendly efficacies.

Using certified green products are awarded extra points in BEAM Plus assessment, the leading initiative to offer independent assessments of building sustainability in Hong Kong, this aims to lower the influence to the environment and improves environment quality, making the project more cost-effective and sustainable.
OPTIMIX TA328 Tile Adhesive (Flexible) is a premium quality polymer modified cementitious adhesive, available in grey or white, for interior and exterior applications with a high strength. This product also complies with EN12004 Class C2TE-S1.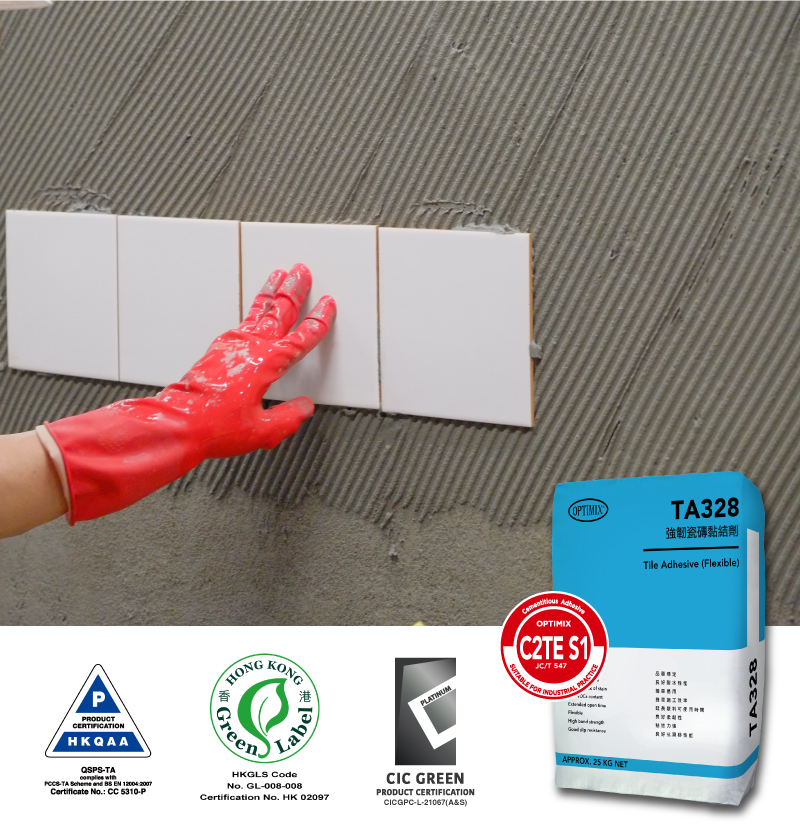 Other than CIC Green Product Certification, OPTIMIX TA328 is also accredited with PCCS-TA by HKCI and Hong Kong Green Label by Green Council, it is truly a cementitious adhesive that excels in performance, quality and eco-friendliness.